French Nationals 2022 – Write-up!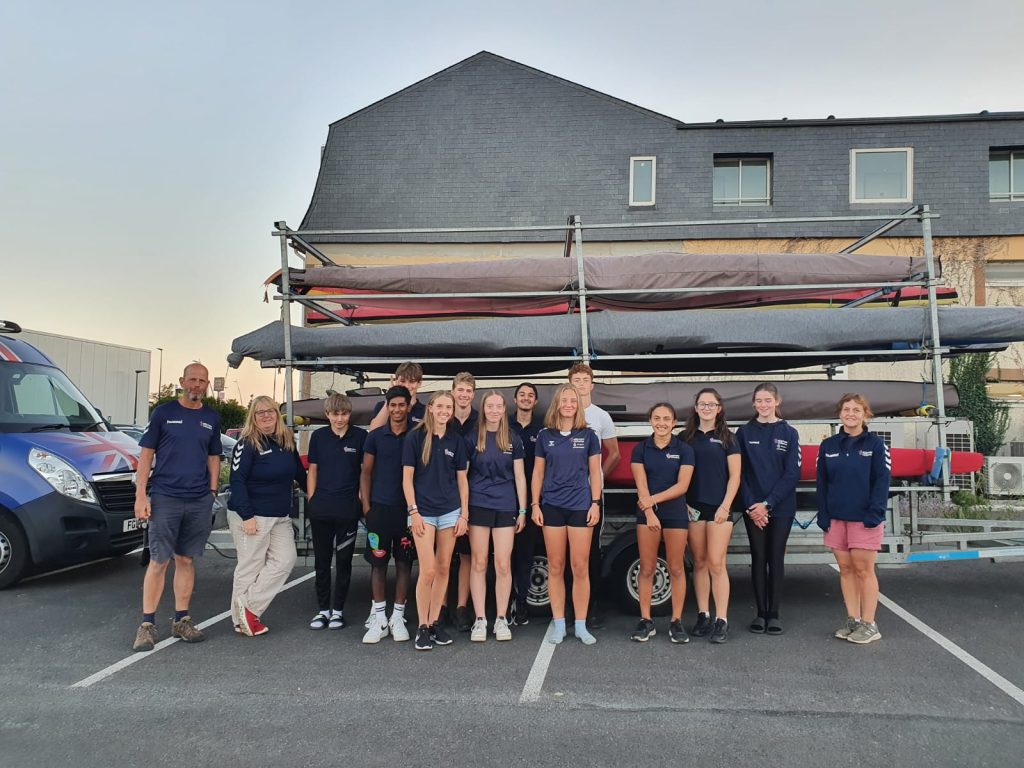 Team of 12 and 4 staff went to French Nationals over the third weekend of September. Departing Elmbridge through Eurotunnel, overnighting at Rouen, then taking the long drive to the venue at Le Temple Sur Lot. The team stayed in La Base, which is a sports training venue that will also be a training venue for the Paris Olympics 2024
Racing started promptly at 10am Saturday morning with the K2 racing. Our athletes 'race up' meaning they are racing other athletes up to 2 years older than them.
The first races of the day were the cadet (U16) category with Dianora De Billio (Royal), Charlotte Fulford-Perez (Reading), Ethan Hunt (Fowey) and Oli Mazur (Reading).
Ethan and Oli were in a field of 21 boats where they needed to complete 4 long laps, 1 short lap and 3 portages. After a poor start, they found their way into the middle group and gradually dropped boats through the portages. Lots of the local crews were giving them a hard time trying to force them the wrong way around buoys but they managed to work up to 8th place, 3 minutes behind the winner.
The girls race consisted of 4 long laps, 1 short lap and 3 portages as well. Dianora and Charlotte found themselves doing a lot of chasing in the beginning and managed to work their way to the front. In the final sprint, they broke away and took the win.
In the afternoon, we saw the older athletes racing in the U18 class. The boys course consisted of 6 long laps, 1 short lap and 5 portages. In a small but strong field, the lead French boat broke away with the boys chasing hard but unable to catch. Andre Hinves (Southampton) and Trishan Bhooha (Richmond) managed to take 2nd, 6 mins behind an extremely strong boat, and Ali Kabeer (Wokingham)/Harry Sewell-Catchpole (Norwich) having a string steady race ending 4th.
The girls competed over 5 long laps, 1 short lap and 4 portages. Hannah Toovey (Glasgow), who is still 14, raced up with Sienna Payne (Chelmsford) and found themselves breaking away at the start by themselves, chasing but not catching the faster mixed crew who started on the same start line. Chloe Ritchie (Wey) and Beth Perry (Southampton) didn't get as good of a start but chased hard, finishing in 2nd.
Sunday meant K1 racing for our juniors. The day started early at 0900, weather distinctly cool, but the water warm.
Out Cadet (U16 boys) competed over 4 long laps, 1 short lap and 4 portages. With a massive class of over 50 boats Oli and Ethan had their work cut out for them. Oli managed an impressive 6th, 3 mins behind the winner, and Ethan 8th, only 10 seconds behind Oli.
The girls start was smaller but still with 25 boats. Dianora came 1st with Hannah 2nd. Charlotte had an unfortunate portage catching the pontoon with the tip of her boat, capsizing her. She managed to pull through to take 7th but only a couple of minutes behind Hannah in 2nd.
In the afternoon, our U18 juniors took the to water over slightly longer courses. In a field of 28 boats, Andre had a good start, getting away with the lead group. Trishan portaged with panache and looked as fresh at the last portage as the first, eventually chasing down and catching Andre metres before the finish. Although Andre tried to pick up the pace, he was too exhausted, and Trishan managed to pip him to the post to take 4th place.. Andre finished seconds later in 5th. Harry had a good solid race finishing 6th, 3 mins later. Ali raced well until he had a capsize and lost quite a lot of time getting back into his boat. He rounded off the weekend with a 15th place.
Our girls had a smaller field of 13 boats, but some good paddlers. Sienna had a good race, but was unable to catch the leaders finishing 3rd. Beth finished 5th, and Chloe 9th
It's really hard to keep track of individual performances when they are all on the water together mixed in with other classes but all the athletes did exceptionally well.
Their parents should know that they all behaved very well, although there was a moment of fright when you get the call that there is a small problem, only to discover that actually it's just a key lost down a lift shaft!!!!
My great thanks to my team of Colette, Elizabeth, and Graham, without which the trip would not have been possible, and to the team of juniors who made the event such a good experience.
Dave Sackman
Team Leader