World Canoe Marathon Championships 2022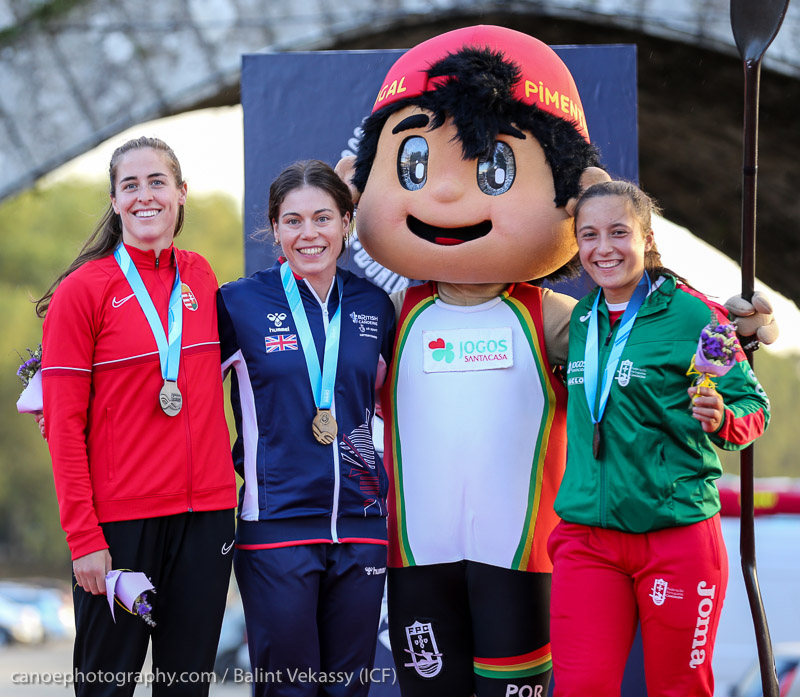 The World Marathon Championships 2022 looked set to be a major event, with athletes from around the world descending on the beautiful and historic town of Ponte De Lima to compete against the best of the best. British Canoeing's own Chief Executive, Ashley Metcalfe, travelled out to watch the five days of racing to get a further flavour of marathon racing, especially from an international level, and our team, as well as the rest of the world, certainly put on a show for him!
The Para racing was billed as an exhibition event, and our British team came together from a variety of different disciplines and levels of experience to see how they would fare on the international canoe marathon stage. Para Team Manager, Tim Scott, said about the event: 'It was emotional watching the 11.8k races, and a sense we were witnessing a historical development for para paddlers who have previously predominantly only had 200m as an outlet for flat water racing international competition …. the Para Marathon Worlds has the makings of a new home and new lease of life for para athletes, and a chance to include more."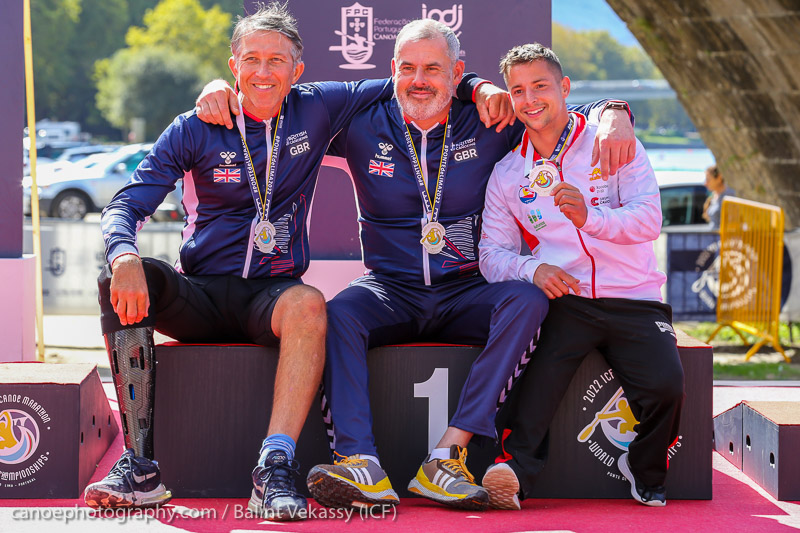 There were two separate races – an open para race, run under marathon rules, where athletes could paddle any boat and all classifications started together. The other was an 11.8k race run under sprint rules, where the boats were required to be 12 kilograms, super stable and each para category has its own separate results. Tim Lodge (Wey Kayak Club), Jon White (Exeter Canoe Club), Shaun Cook (Norwich Canoe Club) and Hein Pretorius (Tonbridge Canoe Club) all left their hearts out on the course, and all won medals. Tim took gold in the KL3 Men, with Hein taking silver in the same category. Jon earned silver in the KL2 men's and Shaun took bronze in the VL2 men's race. In the earlier open event, Tim won silver and Jon won bronze. The takeaway for the para team, and para racing, was even more than those hard-fought medals – welcome though they were. It was about new friends, new possibilities, new inspirations and motivations and a new love for the sport. It was all hugely inspiring.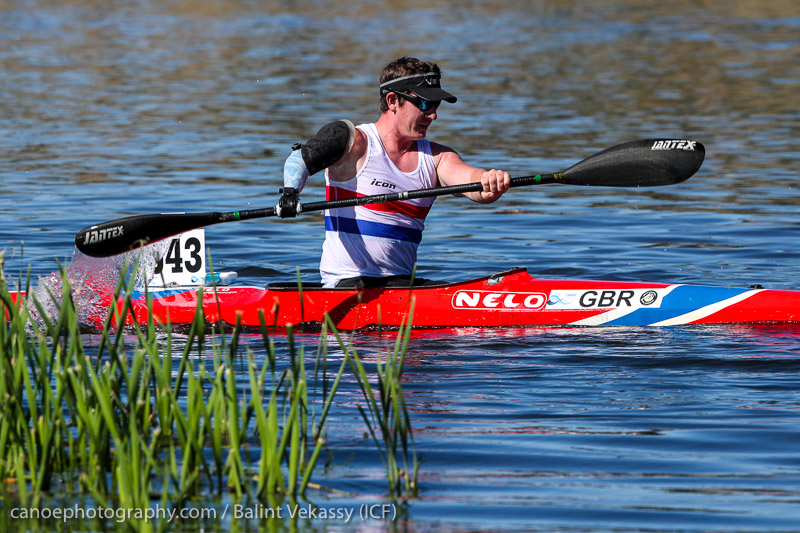 Short Course Races
The athletes, supporters and spectators were treated to a spectacle of high drama and high performance in the short course races – a 3.2km course with beach portages in front of the grandstand and lots of tight turns. Team manager Jo Bates was grinning from ear to ear as the results came tumbling in; Beth Gill (Chelmsford Canoe Club) paddled a stunning and focused race to be crowned Senior Ladies C1 World Champion, making the most of pre-race favourite Babak making an error on the course. Beth demonstrated that she was one of the most consistent technical C1 paddler out on the course, allowing her to storm ahead from the rest of the field as she went clear to complete the race.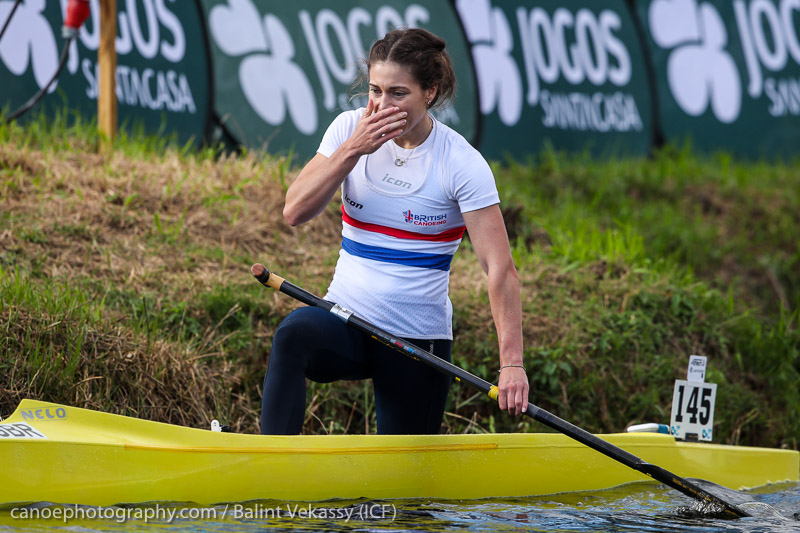 After taking the world title, Beth Gill said, "It was a good race. Babak definitely took me by surprise, especially with her experience, but I had replayed the race that many times in my head that I knew what I needed to do off each portage… I just trusted that really and [I'm] ecstatic… it's really just credit to my training group in Nottingham, to Chelmsford Canoe Club with the support, particularly the Moules… but in particularly Dan Johnson and all the the hard work that he puts in to both myself and the group as a whole."
Sam Rees-Clark (Nottingham Kayak Club) raced superbly well, showing every bit the World Class paddler she is, to take bronze in the Senior Ladies K1. Sam automatically qualified for the final after a dedicated heat saw her finish in sixth earlier in the day. An impressive first portage meant Sam joined the lead group in fourth as they led away, she was able to maintain this position and then better it after a strong demonstration of her skills on the second portage. She followed out of the second portage in third with only the small lap to go and maintained it until the finish line. A fantastic performance saw Rees-Clark match her bronze medal from the European Championships back in July.
James Russell (Chelmsford Canoe Club) found himself on the start line with the "who's who" of the fastest men in the World, and he certainly earned his place on that role of honour. James paddled a superb race, never away from the sharp end and always threatening to take a medal. He eventually took 5th place, the highest place he's managed in international senior races. The pace that Pimenta put down was staggering, he approached the Marathon as he would his 1,000m, pushing to dominate. He showed the world that canoe racing, be it 500m or marathon, has its foundations on hard work and there aren't any short cuts to being this good. With Beth, Sam and James's performances all so impressive (based on the "The Norm Plan" masterminded by Norman Mason for Nottingham Kayak Club), they showed the value of quality coaching and a positive culture towards the training that is needed to be successful.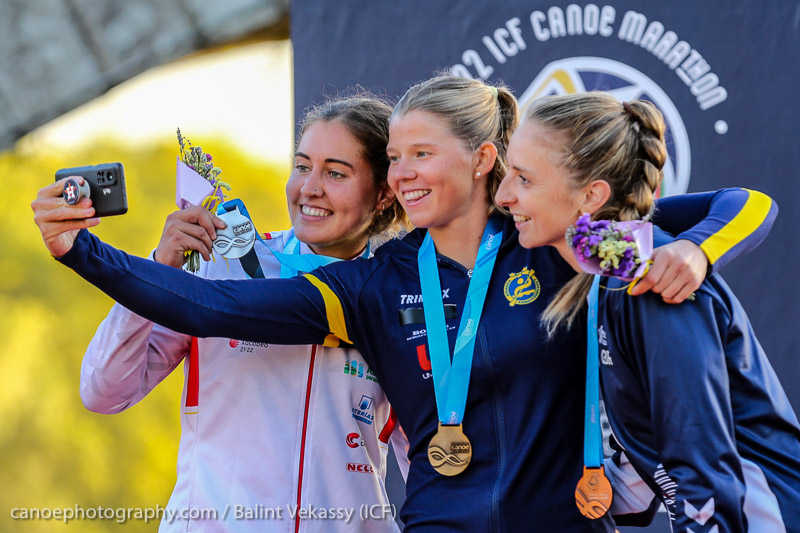 Long Course Races
Long course races took place throughout the four-day event for every age category (Junior, U23 and Senior) over a variety of different distances.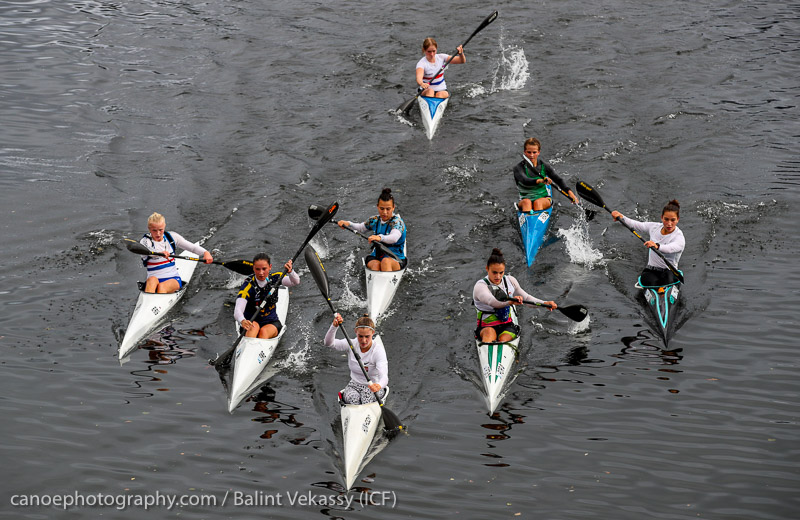 The first race off on the Thursday morning was the Junior Girls K1. Greta Roeser (Wey Kayak Club) was fearless in her approach, challenging the two Hungarians and South African paddlers. Through she was missing out on raw speed in the opening 1,500m, Greta fought back to the leading boats, using the boat skills developed on the River Wey and finished 4th. Isla Bethune (Elmbridge Canoe Club) put into practice many of the skills her highly experienced and successful coach, Roland Lawler, had been working on with her. Isla moved well around the washes and finished 16th. In the Junior Boys K1, Sam Cribbett (Royal Leamington Spa Canoe Club) made his international marathon debut in a tough field. He had a good start, getting into the mix early on, and looking every bit a quality paddler. The race edged away from Sam lap by lap and a 24th finish doesn't do justice to the maturity and conviction he showed throughout.
In the Junior Girls K2, Nerys Hall & Greta Roeser (Wey Kayak Club), a tried and tested team who secured bronze at the Marathon Euros were looking to build on that performance. Nerys & Greta didn't disappoint, they pushed for a top position right from the start. However, the first turn was a little frantic for all the boats. Unfortunately the Swedish pair capsized, and the race judges felt Greta & Nerys were partially responsible. They finished their race in 5th but were disqualified due to the earlier incident. Isla Bethune (Elmbridge Canoe Club) & Mathilda Enoch (Nottingham Kayak Club) worked well throughout and showed some great spirit to stay with the pace in the first half of the race. They were still tantalisingly close to the front of the race for the remainder and finished 7th. Undoubtedly these four girls will be looking to build on this at next year World Championships in Denmark as they all have at least one year left of junior.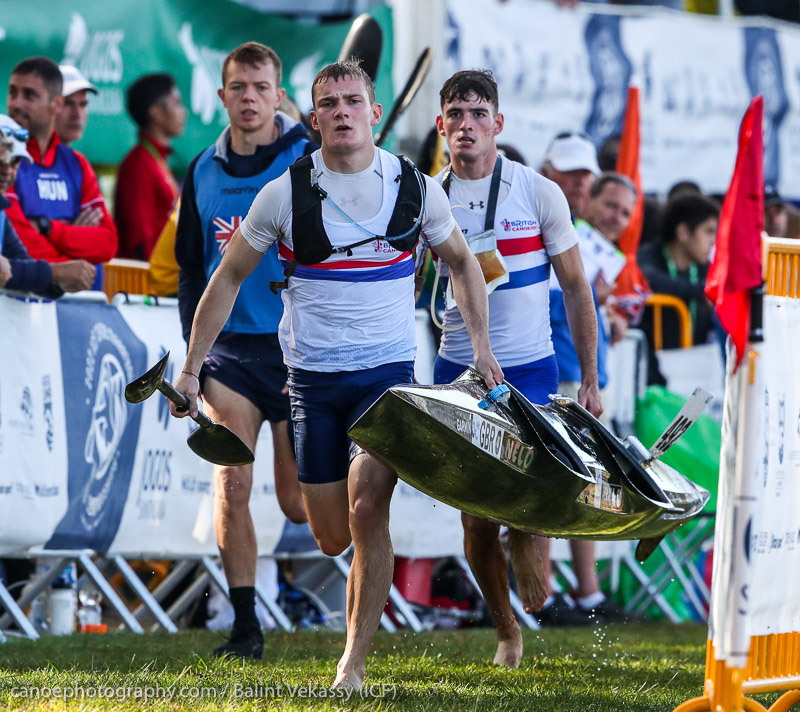 On Sunday morning, Harry Freeland (Reading Canoe Club) & Dominic Stanley (Falcon Canoe Club. took on the Junior Boys K2. A good start from the boys put them in the second group, where they were able take some recovery from the blistering start. However, it seemed the start and the high pace took its toll and the boys never fully recovered, finishing in 16th place. After their race, they said, "It was a tough race. We found the pace a lot different from the Euros. I think understanding the pace at the World Championships is only possible when you are on the water amongst them… it was very hard to judge when to put the power in and I think we may have tried maybe too hard to catch back up to the second at the start. It was a good race and I think we will learn from what we did for the future."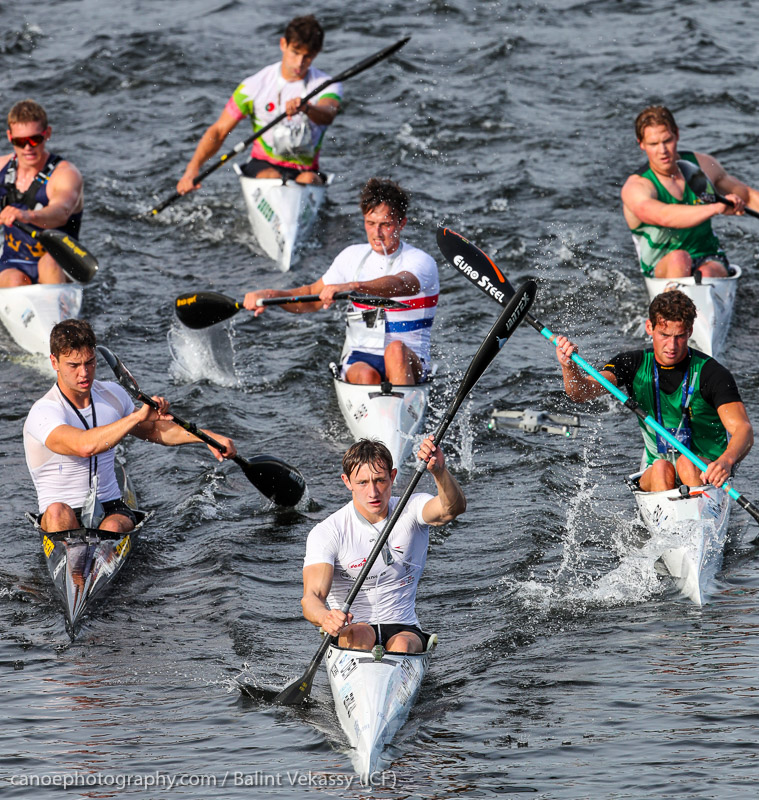 The Under 23 men's race was shaping up to be an exciting one after an incredibly tight race at Europeans, and the added names of Lovemore and Hart from South Africa. Our own Charlie Smith (Nottingham Kayak Club) was looking to build on his impressive silver medals in the 5,000m at under 23 Sprint Worlds a few weeks earlier, and at the European Marathon Championships back in July. The race started well for Charlie, paddling faultlessly in positioning his boat in the group. As ever, he was making it look easy but whilst on the surface things looked fine, Charlie wasn't as comfortable as he appeared. After hitting a buoy on one of turns and having to reverse back, he slipped from the group. Luke Shaw (Norwich Canoe Club) showed real quality, racing hard throughout and holding his ground on the frighteningly quick turn of speed. Ultimately both Luke and his teammate Charlie finished 10th and 9th respectively. Although this was Charlie's last year at U23, Luke still has another year to develop his racing to see whether he can better this performance.
In the under 23 Women, Anoushka Freeman (Richmond Canoe Club) battled strongly throughout. Her tenacity was evident, but it was the turn of speed which caught her out. Anoushka ended up finishing in 8th position. After the race, she said, "I got myself into a few collisions on the start and ultimately didn't end up where I'd hoped, but eventually settled into a group and just tried to get my head down and pick people off one by one. I'm happy to have bettered my result from last year and have come away with lots to learn."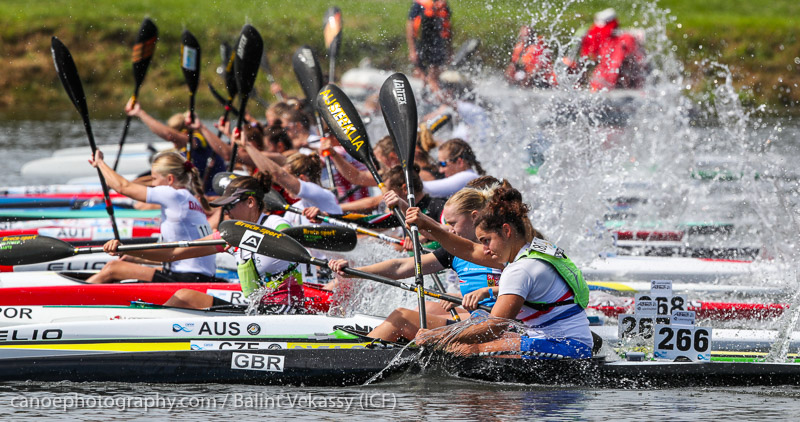 In the Senior Women's C1, Beth Gill again showed what being World Class really means, battling throughout, and coming away with bronze – not a bad weekend at the office for any athlete. The Chelmsford paddler, who currently trains in Nottingham, defended her bronze medal position throughout the race. Picking up the pace to extend the gap between herself and Ukraine's Tsyhankova. Similarly, Sam Rees-Clark built on her short course result, demonstrating dominance in the Senior Women's K1 field and taking the lead of the front group from the beginning. She was tactically excellent at the portage, always putting in with the front boat and this allowed her to break away with Kiszili from Hungary and Andersson from Sweden. A tough fight to the line secured Sam another bronze medal to add to her impressive, and growing, collection of international marathon medals. Sam said, "I was really happy with how it went. I was trying to be quite defensive at the start and hold my own… as soon as we saw an opportunity to break away as a three, I think we worked really well together to make that break and after that it was trying to see who can grab which medal…I have really enjoyed racing this weekend. It's nice to race on a river with a bit more to it."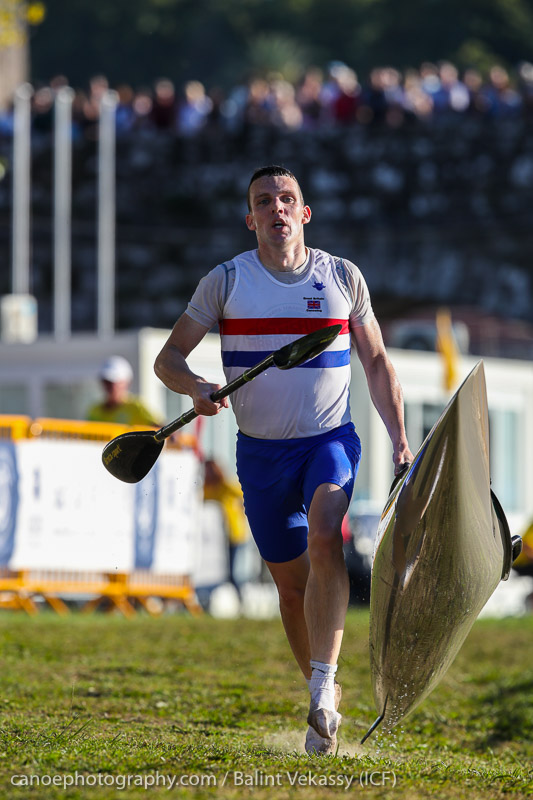 Albert Hicks (Norwich Canoe Club), competing in the Senior Men's K1, had been plagued by shoulder injury early in the season. His shoulder surgery was so recent that he was unable to load too much power and his training was still restricted in volume. Albert wasn't able to match the initial speed of the race and so lost out to the first couple of groups but, in his very determined style kept pace, never losing faith that he was going to get back in contention, to finally finish 18th.
In the Senior Women's K2, Sam Rees-Clark & Mathilda Enoch (Nottingham Kayak Club) paired up to give Mathilda exposure to a senior women's field – and who better to paddle behind than one of the best female technicians of all time. If Charlie can make paddling in the group look easy, Sam has turned it into an art form, and no doubt Matilda will have grown in confidence from the experience after they finished 16th.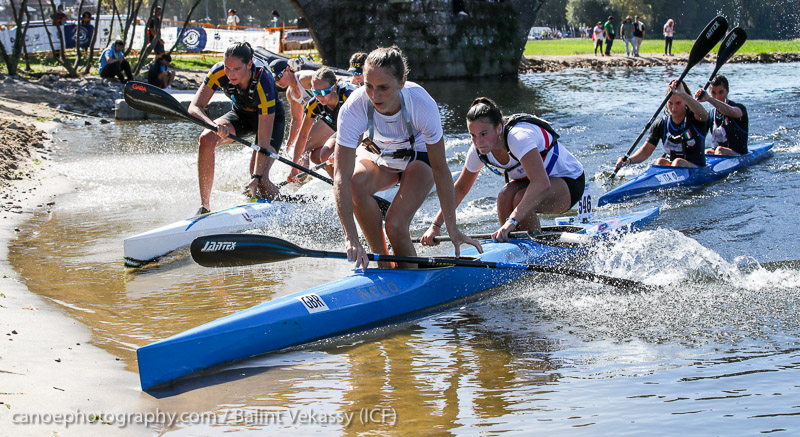 The last race of the weekend was the Senior Men K2. Charlie Smith & James Russell both showed their form within what was, without doubt, the best men's race of the year – maybe ever – and showed why they are world class athletes. They challenged for the best positions in the group, fearless and certainly not intimidated by the big names of the sport. The race was fast with the lead stroke rate sitting at 96 strokes per minute 58 minutes into the race, and after 70 minutes, 11 boats were still within 15 seconds of each other. Unfortunately, on the last portage, Charlie and James' rudder failed, and they had to fight their boat to the line to take 11th. On reflection they said, "…the race went really well. There were lots of fast boats out there and we managed it as best we could. Only probably 2 or 3 burns away to making it stick to the portage, but really happy with it in the end. We nearly got a top ten but the rudder fell out on the last portage so the short lap was a bit hectic trying to keep the boat in a straight line… overall I think a good starting point for next year where we will give it another crack."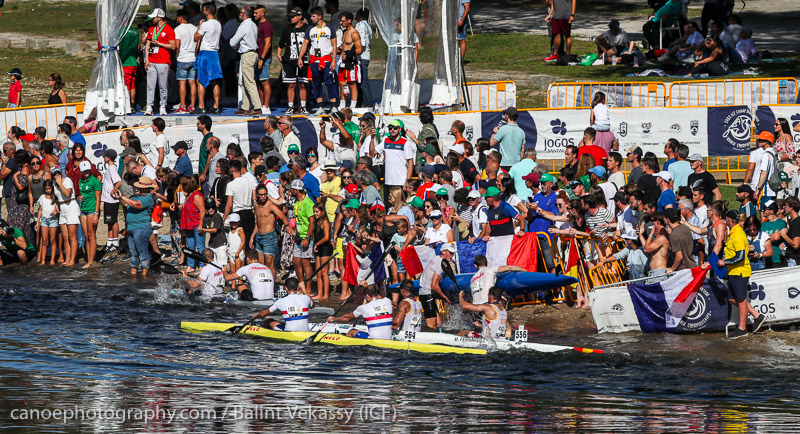 The World Marathon Championships showed the depth of talent in British racing at all levels. We were 7th in the medal table, and some amazing top ten positions must give British Canoeing's newly appointed Chief Executive a great deal of optimism. A special thanks to Jo Bates (Team Manager), Pete Gorman (Deputy Team Manager), Tim Scott (Para Team Manager), Paul Dimmock and Dyson Pendle (Logistics Manager) who collectively ensured the British team was a coordinated force at the World Canoe Marathon Championships 2022.
After the final day of racing, Pete Gorman reflected on the event: "It has been a brilliant world championships. Some outstanding performances from GB athletes… everybody gave everything at every inch of the way. Tightest, hardest racing I have ever seen and I've been paddling for 57 years. I've never seen anything like this. I am in awe. There is still more to come from our younger paddlers. The learning curve is steep but the positivity within them is awesome."
Finally, thanks for the work of Ivan Lawler. His commentary and insightful (and jovial comments) along with the spectacular drone coverage have been instrumental in transforming the sport. Racing is now far more engaging and the excitement on screen and live at the venue are all aided by Ivan and his co commentator's injections of humour and drama.
Thank you to Paul Dimmock and Tim Scott for their help in constructing this write-up to reflect the teams achievement over the event.