World Cup 2023 Race Report
Over two weeks have passed since our 2023 World Cup team competed in Ruse, Bulgaria. The event concluded with one medal and multiple top ten places from our senior development team.
After a long coach journey into Bulgaria on Thursday afternoon, the team were able to check out the course and portage on Friday. The organisation had done a great job with the venue set-up and even the army had been drafted in to construct the 200+ metre portage using transportable army bridges to form the pontoons. The weather was hot but cooled enough in the evening to enjoy some dancing and music at the open ceremony.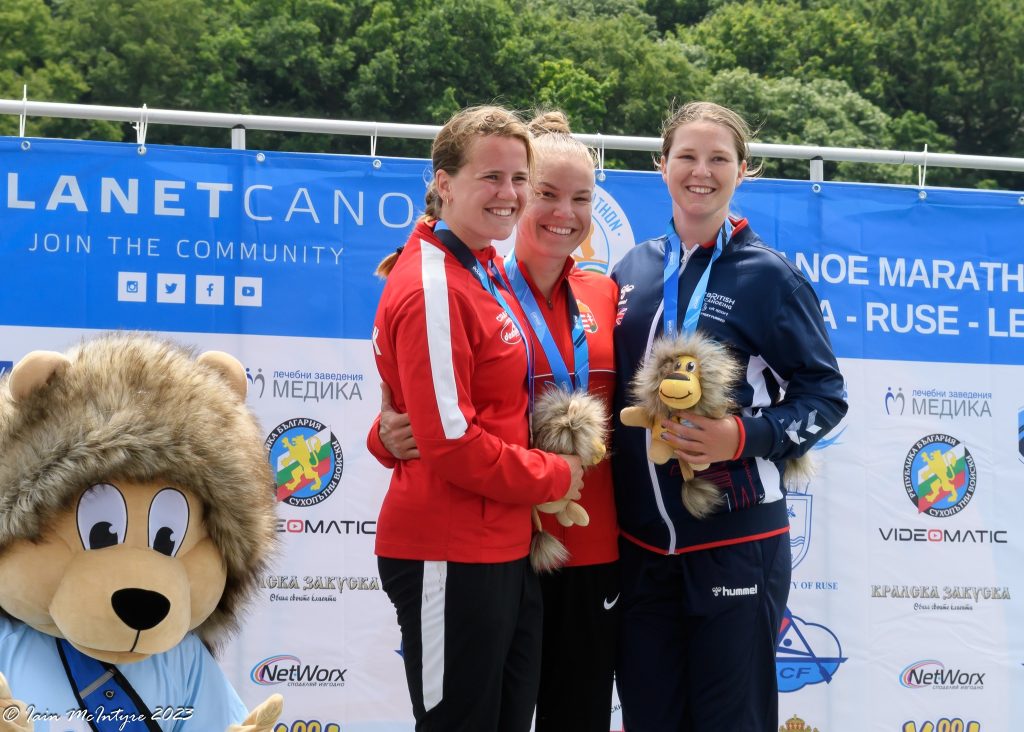 On Saturday 3rd June, the team competed over the short course distance, with the senior women taking to the water first. An exceptional start from Becky Solway (Elmbridge) saw her in a comfortable position for the first few hundred metres, while the rest of the women had to work hard to make the first turn from their left-side-of-the-pontoon start. As the field started to split apart, Melissa Johnson (Chelmsford) was using the washes to move her way closer to the lead group coming into the first portage. A strong run put her within medal contention with four other boats. Becky found herself back in a chasing group with Samantha Martyn (Wey). Katie Brookes (Exeter) and Lucy Guest (Nottingham) found themselves a little further back after Lucy had an incident with a turn buoy. The second portage resulted in Melissa putting in competing for either silver or bronze with a Danish boat. The final sprint was tight and she crossed the line earning bronze, her first international medal.
When reflecting on her performance, Melissa said, "It was a really good race. It was quite interesting off the start, and I was just trying to climb my way through the group. I managed to run through quite a few other athletes [at the portage], and once I got back in I just kept climbing through and managed to get [my first] bronze [medal]."
Samanatha Martyn finished in eighth with Becky Solway just behind in ninth. Katie Brookes and Lucy Guest finished in 12th and 13th respectively.
Quickly after the senior women came across the line, the senior men's short course race started. A strong start from Ross McMullen (Elmbridge) allowed him to make it into the front group and fighting for washes. A tough start on the left-side-of-the-pontoon saw Alex McIntrye (Chelmsford), Finn Cadell (Nottingham) and Joe Petersen (Banbury) form the chasing group, working to close on the lead group. George Durden (Elmbridge) suffered off the start and found himself trying to claw back to a group. The first portage was tough and Ross found himself back with the chasing group and the three other Brits. Working hard together saw some tight finishes after the second portage. Finn came out top, securing sixth position overall, closely followed by Joe in seventh.
After his race, Finn said, "It was really good fun… this was only the second marathon short course race I've ever done. It was a very long portage, but I think that played into my strengths… overall it was a good race and a good day."
Alex finished in tenth, Ross in twelfth and George in 16th.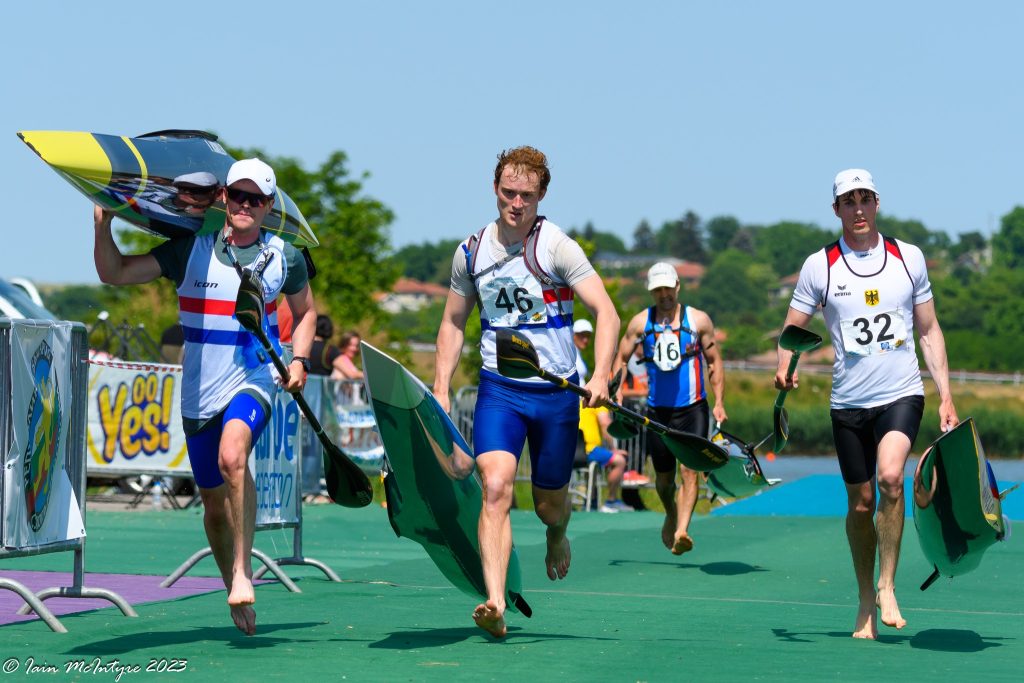 Sunday saw the turn of the long course racing. Our Senior Women had an earlier start but a shorter than normal course of 22km and much cooler temperatures than earlier in the week. All five Brits had a strong start, enabling them to make the front group, with Samantha Martyn (Wey) finding herself in the lead v-wash for the first lap. Unfortunately a tight second turn saw Melissa Johnson (Chelmsford) squeezed the wrong side of a buoy, earning a 15-second penalty that she had to take at the first portage. This incident also caused the front group to split up with a chasing group of Lucy Guest (Nottingham), Becky Solway (Elmbridge), Melissa Johnson (Chelmsford) and Katie Brookes (Exeter) forming. However, a small incident with a confused fisherman saw Katie catch and then tow a fishing line into the first portage. Quick action from team staff member, Oli Rix, saw it removed, but the damage on Katie's involvement in the chase group had been done.
The front group had started to break up further and Samantha Martyn found herself chasing with Czech paddler Katie Milova the lead boats and medals. They continued to close the gap and Samantha found herself finishing in fourth position, only seven seconds behind bronze medal position. She was controlled right up to the finish, even being considered in her sprint finish and when to action it. She was also surrounded by paddlers who secured a top five position in last year's under 23 women's world championships.
After her race, Samantha said, "The start wasn't quite as fast as I'd hoped for but I got some good washes and had a few lucky moves which helped me secure a safe spot…Catching people later in the race is something I know I can do so I felt confident on the later laps [but] I wasn't sure on that last lap what was going to happen so I was little nervous coming into it, but I'm really happy with ending up in fourth place."
Melissa finished in eighth, Becky in ninth and Lucy in eleventh.
Our Senior Men raced over a 25km course in the early afternoon. Yet another strong start from Ross McMullen (Elmbridge) saw him find a position within the lead group, alongside Alex McIntrye (Chelmsford). The first lap is always a quick one and staying on the washes and keeping safe is always the main aim. McIntrye did this well all the way into the first portage. Ross found himself dropping back into the chase group containing Finn Cadell (Nottingham) and Joe Petersen (Banbury. They worked hard to try to keep the gap between them and the lead group level, and even try to close it. George Durden (Elmbridge) found himself working hard just behind the chase group with a Ukrainian paddler.
The pace of the first portage was high and Alex found himself not able to latch onto a wash afterwards to stay there. He wasn't the only one though and a group of five boats formed, including Ross who had completed an exceptionally fast portage to jump a group. As they came into the last portage, Alex was in a strong place to try and secure a top five position. A tight and powerful sprint finish from a Belgian paddler saw Alex finish in sixth. Ross finished in ninth, Joe in twelfth, Finn in 15th and George in 16th.
After his race, Alex said, "Very happy with my performance, I did what I could to get in the front group. After my performance yesterday, I decided I needed to commit more to the first lap or two, so I went all in and it paid off… I got a good portage on the last lap and I managed to split away with the Belgian paddler and we had a good sprint finish into the end. My overall takeaway from the weekend is that I need to get faster. I want to get better at moving around a group in terms of pace, but overall I am happy with my performance."
A successful weekend saw one medal and ten top ten places secured. David Sackman, the team manager, reflected on the weekends results and said, "Really pleased. Some great results and performances [over the weekend]. A pleasure to manage such a lovely team. And of course having good staff team makes things run so smoothly."
Well done to all the athletes and thank you to our amazing volunteer team of staff that helped make the trip happened.
The next international event is the European Championships, taking place between Thursday 13th July to Sunday 16th July. We look forward to seeing how the international team gets on.