Masters World Cup 2022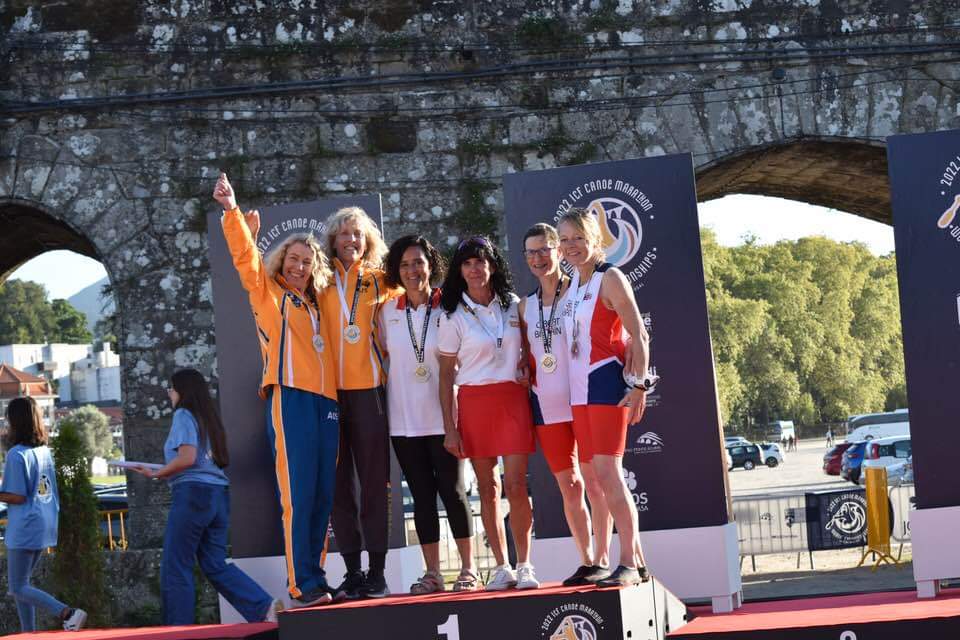 The Great Britain Masters team had 32 Paddlers competing in the Masters World Cup in Portugal in September. This was a huge increase in the 4 who competed in the Masters World Cup 2021 held in Romania and the European Cup held in Denmark back in July.
The team that headed out to Portugal had a hard act to follow after the 2021 team won a gold and a silver medal and the recent European Cup team all managed to get onto the podium in their respective age group races. These set the scene for Portugal, with our team's reputation running high.
The masters events always start with the single boats racing on Monday and Brian Greenway paved the way by showing that his many years of racing still counts as he took the Gold medal in the Men's K1 70+ race.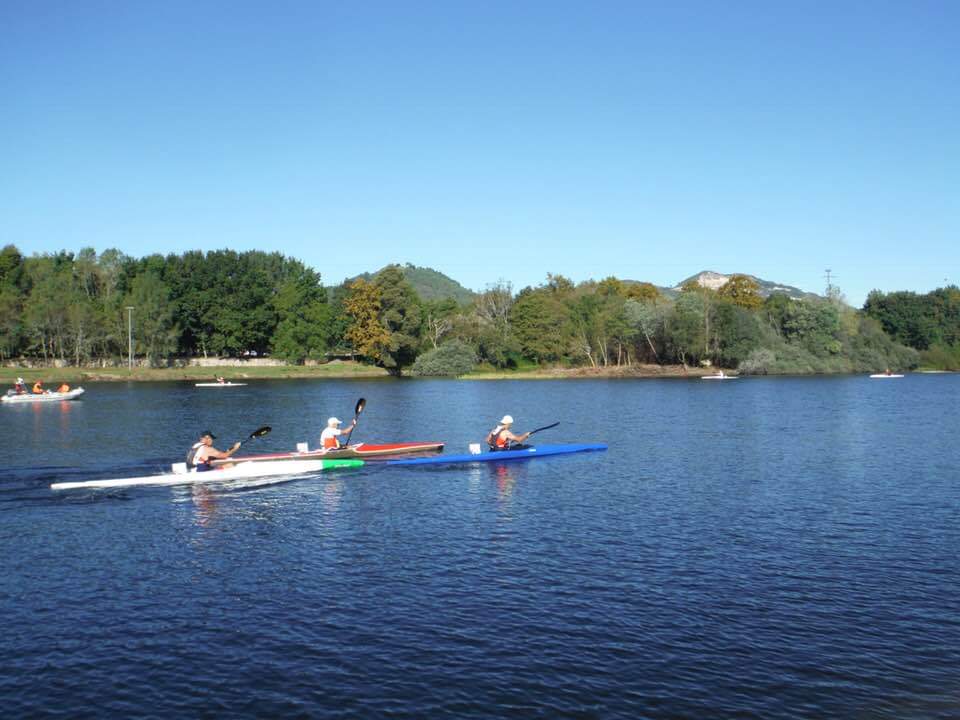 Following on, we had paddlers in most of the other age group races with many of our paddlers competing in their first World Masters. Unlike 2021, the fields were huge, often using more than the start pontoon's 20 places. The men's team earned many top 10 places, including Edgar Boehm getting a 9th place in a highly competitive over 45 K1 men's race and Robert Scholes and Antony Nolan achieved 5th and 6th respectively in the over 75 K1 men's race.
The women's team were not to be outdone and showed how this team has grown in size and confidence. Jane Millar took 4th in the over 65 women's K1 and Sue Hawthorn earned 5th in the over 55 women's K1.
Tuesday was the turn of the double crew boats and the British medals continued to come. Our over 75 Men's K2 team of Keith Durham and Paul Newman won an unopposed Gold. Not to be outdone, Brian Greenway dropped down an age-group to paddle into a medal winning position with Simon Davies. The Kristin Queeney and Catherine Ayling completed a bronze medal winning performance in the over 55 women K2.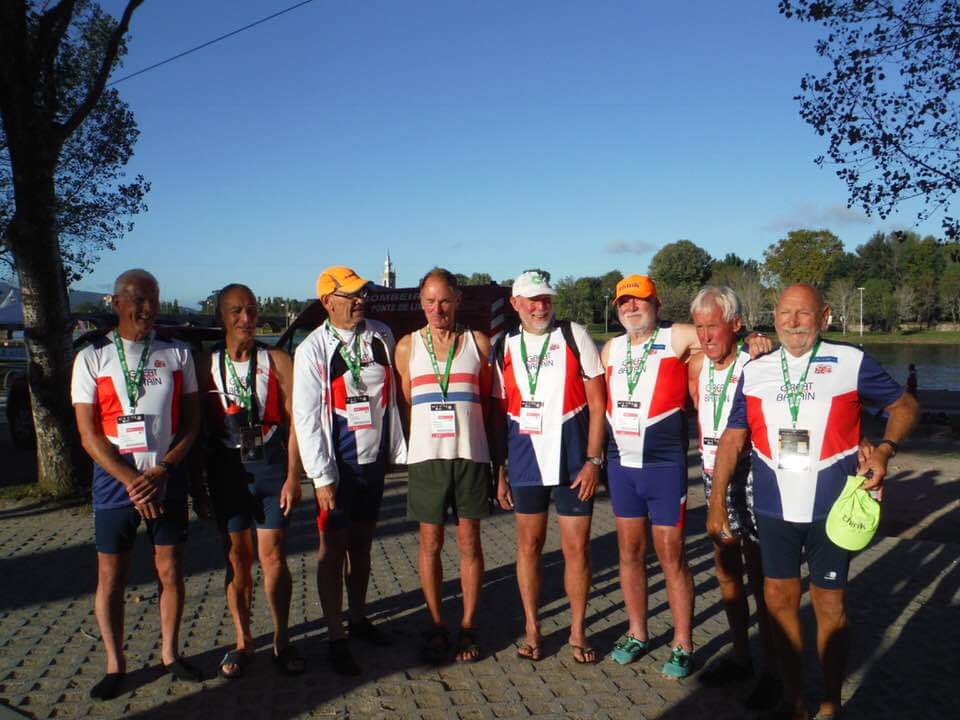 To conclude the programme of events, some of our paddlers took to the water for their 3rd race in 2 days to compete in the mixed K2. Unlike in previous years, the mixed K2 was merged into only 2 age-group based races. In the over 50 mixed K2, Chris Sze and Catherine Ayling achieved 10th with Micheal Hawthorn and Sue Hawthorn finishing close behind in 11th. It is worth noting that if the mixed K2 had be seperated out into the previous age categories like at last years world cup, Chris Sze and Catherine Ayling would have had 3rd place in the over 55 and Bryn Price and Jane Millar would have had a 2nd place in the over 65.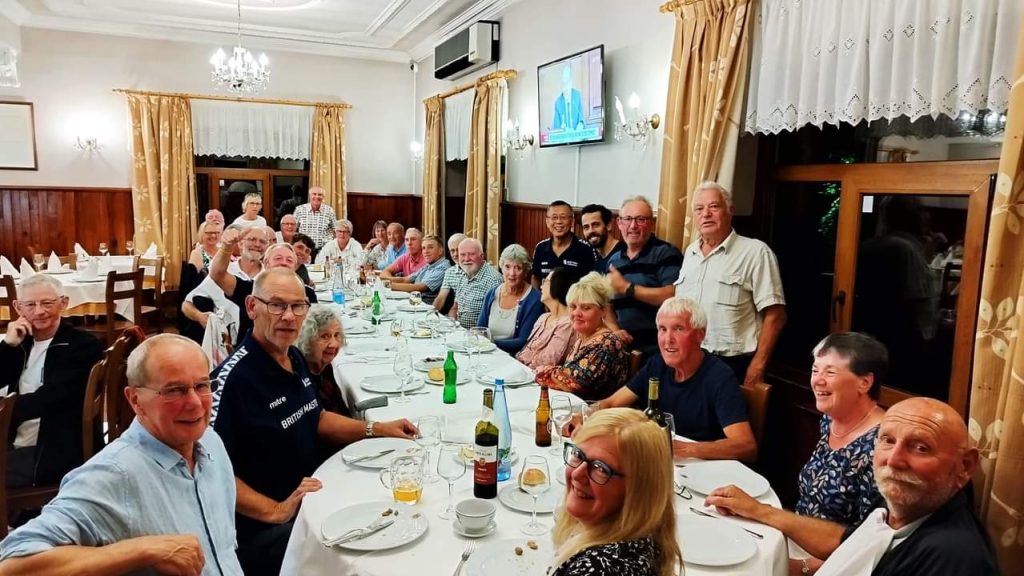 The full results for the masters team are as follows:
Men K1 Over 65 – Dave Marshal 9th Julian Gilbert 12th, Gordon Bullock 16th, Andy Nevins 20th, Kenneth Fraser 21st and Bryn Price 22nd.
Mens K1 Over 70 – Brian Greenham 1st, James Parker 7th, Micheal Hawthorn 11th, Ian Bainbridge 12th.
Mens K1 Over 75 – Robert Scholes 5th, Antony Nolan 6th
Women K1 Over 65 – Jane Miller 4th
Mens K1 Over 35 – Juan Caruncho-Abellanas 24th
Mens K1 Over 55 – Donald Gardner 21st, Calum Urquhart 22nd
Mens K1 Over 45 – Edgar Boehm 9th
Mens K1 Over 60 – Chris Sze 24th
Women K1 Over 55 – Sue Hawthorn 5th, Catherine Ayling 7th Kirsten Queeney 10th
Mens K2 Over 65 – Brian Greenway and Simon Davies 2nd, Bryn Price and Micheal Wibrew 6th, Andy Nevit and Julian Gilbert 7th, Ian Bainbridge and David Walsh 10th
Mens K2 Over 75 – Keith Durham and Paul Newman 1st
Mens K2 Over 35 – Edgar Boehm and Juan Caruncho-Cardozo 5th
Mens K2 Over 50 – Edward Martin and Nick Gardner 12th
Mens K2 Over 60 – Chris Sze and Gordon Bullock 6th
Women's K2 Over 55 – Kirsten Queeney and Catherine Ayling 3rd
Mixed K2 Over 50 – Chris Sze and Catherine Ayling 10th, Micheal Hawthorn and Sue Hawthorn 11th, Gordon Bullock and Kirsten Queeney 15th, Bryn Price and Jane Miller 16th.
Thank to Bryn Price for his support creating this write-up.