World Championships 2023 – How to follow along and cheer on the team!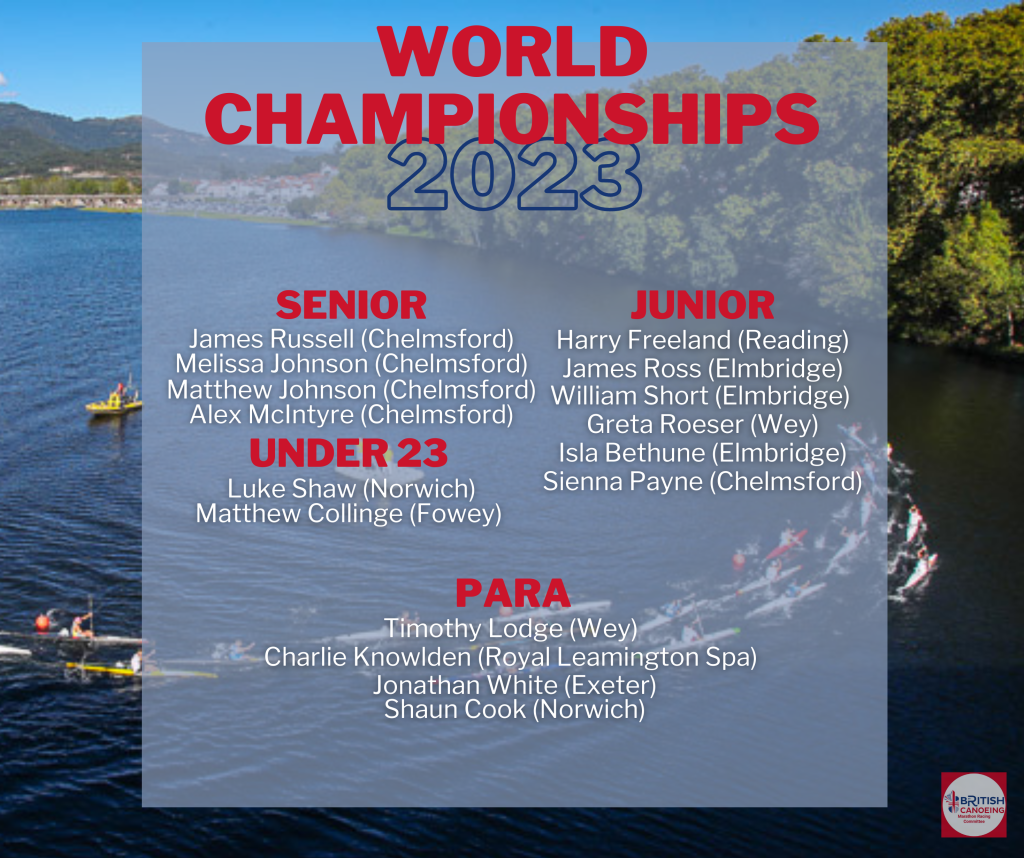 Our 2023 World Championships team has successfully arrived in Denmark ahead of racing starting tomorrow. Our paracanoe athletes will be first on the water on Wednesday afternoon while the rest of the team competes over the remaining four days, finishing on Sunday 3rd September.
Start lists and live results for the para events can be found here, whereas all over events can be found here. Any live updates from our British team will be shared via our social media platforms.
All racing will be live streamed via the PlanetCanoe Recast Channel. For full information on how to use Recast, visit our watch canoe marathon page. Recast is currently offering a 7-day pass for 450 credits, which will give viewers unlimited access to all PlanetCanoe streams for the next 7-days. Visit the main channel page for further details on how to access it.
Wednesday 30th August Schedule & Live Stream
| | | |
| --- | --- | --- |
| 14:00 BST | VL2 Men | Shaun Cook (Norwich) |
Thursday 31st August Schedule & Live Stream
07:30 BST
Junior Women K1
Greta Roeser (Wey)
Isla Bethune (Elmbridge)
10:00 BST
Senior Women K1 Short Course Heat 2
Melissa Johnson (Chelmsford)
10:25 BST
Senior Men K1 Short Course Heat 1
James Russell (Chelmsford)
10:45 BST
Senior Men K1 Short Course Heat 2
Matthew Johnson (Chelmsford)
16:45 BST
Senior Women K1 Short Course Final
17:15 BST
Senior Men K1 Short Course Final
Friday 1st September Schedule & Live Stream
07:50 BST
Junior Women K2
Greta Roeser (Wey) & Sienna Payne (Chelmsford)
10:35 BST
KL2 Men
Jonathan White (Exeter)
10:40 BST
KL3 Men
Timothy Lodge (Wey)
Charlie Knowlden (Royal Leamington Spa)
13:30 BST
U23 Women K1
Isla Bethune (Elmbridge)
15:45 BST
U23 Men K1
Luke Shaw (Norwich)
Matthew Collinge (Fowey)
Saturday 2nd September Schedule & Live Stream
| | | |
| --- | --- | --- |
| 07:50 BST | Junior Men K1 | Harry Freeland (Reading) |
| 13:15 BST | Senior Women K1 | Melissa Johnson (Chelmsford) |
| 15:30 BST | Senior Men K1 | James Russell (Chelmsford) |
Sunday 3rd September Schedule & Live Stream
07:50 BST
Junior Men K2
James Ross & William Short (Elmbridge)
13:00 BST
Senior Mens K2
Matthew Johnson & Alex McIntyre (Chelmsford)
James Russell (Chelmsford) & Luke Shaw (Norwich)